Originally posted at ericalainclark.com on 4/14/2014
Technological innovations are occurring at lightning speed, a phenomenon that makes it difficult for even the most tech savvy folks to stay on top of the latest trends. One of the most notorious culprits is Facebook, and it seems like the organization often makes major changes that leave some people in the dust. If you are not one of those people you can stop reading, but I think what I have to say may be worth your time. For some reason, I missed Facebook's update where they informed page owners about the new page functionality that has a direct impact on how they can invite people to like the page.
For the longest time, business owners could only invite their friends to like to the page. This limitation probably ended a few relationships, at the very least, it was a major annoyance. Facebook now allows page owners to upload contact lists via a .CSV files along with a few others. If you have not heard about this, you are not alone. I only discovered this functionality while I was tinkering with the #UMBSocial Facebook page this morning.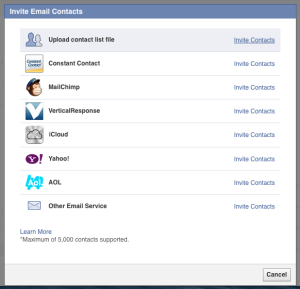 If you are wondering why this development is important, you are not alone. The purpose of a Facebook business page is to establish a platform where customers can interact with the brand. Sending invitations to qualified leads that have opted into a mailing list should increase the conversion rate. It is understood that the quality of fans trumps quantity, and it is important to remember this when assessing Facebook interactions. Inviting newsletter recipients is a great way to increase the like count by large amount of qualified leads. Isn't that every marketers dream?
Now it is time to but this concept into action. Segment your email list, and experiment with the Facebook invite functionality.  Are you seeing an increase in Facebook likes?  What strategies work best?  What strategies have flopped?